You might think I'm crazy...planning my Christmas card list in October, but people...planning makes perfect, in my humble opinion!
There are a ton of great online card companies out there, but I find myself turning to Shutterfly time after time for everything from stationary, shower invitations,
greeting cards
, address labels, and
Christmas cards
. If Christmas isn't your thing, they also have some great
holiday cards
.
We used Shutterfly for our
Christmas cards last year
, and so many people were complimentary of the design and quality. One of the senior partners at my firm told me that I had "the finest" Christmas card he had ever seen. Very nice, indeed!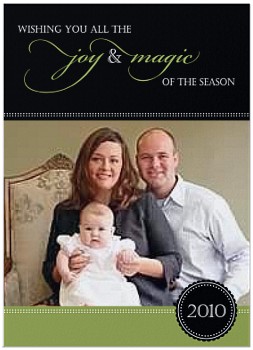 We are going to use Shutterfly again this year!
We have a great black and white photo from Coco's 1 year portrait session, so I am looking at cards with a vintage vibe that have space for a horizontal photo.
Here's our photo:
My top three Shutterfly cards are:
If we had a different (vertical) photo to use, I would be all over this one...Just LOVE it! It is also possible that I love this family's vibe - sometimes it is hard not be swayed by the picture perfectness of the models. :)
Which one is your favorite?
Do you want to win 25 free Shutterfly holiday cards?

I have promotional codes for
THREE
winners!
Since we are all about doing things in threes today, I'm giving you three chances to enter. Merry Christmas. :)
Here's how to enter (you do not have to have a blog or website to enter...just enter the comment form as anonymous, put your name next to your comment, and check next week to see if you've won!):
You have 3 ways to enter. You can enter up to 3 times, with 3 separate comment entries, or pick and choose.

For each method, PLEASE leave me a separate comment!
Since I use the random integer method, I just count up the entries, and plug it into random.org. If you leave all your entries in one comment, you are getting only entry. So, all you rule followers out there - you will be rewarded!
1)

To enter, leave me a comment telling me which card is your favorite. It is hard to pick, I know!
2)

You can get another entry if you leave a separate comment telling me how you spread the news about the giveaway (Facebook status post, blog post, twitter, etc.).
3)

Finally, if you are a follower or become a follower of my blog, leave another separate comment telling me just that.
(P.S. If you are having a hard time getting your comments to enter, just email me at
curtsies@gmail.com
, and I will try to enter them for you. I have tried to fix the commenting, but sometimes it still doesn't work. I don't know why Blogger is being so stubborn. Grrr.)
See? Isn't that easy? The winner will be announced next Wednesday (October 26) morning, and will be chosen using random.org. Hurry and enter - this is going to be a fun giveaway!
Finally, do you have your own blog? Want a chance to win an additional 25 free cards this holiday season? You can register here
:

http://goo.gl/DDw7Q

.
Okay - hurry up and enter! And, if you have the time, tell me which of my three picks is your fave...it might end up being my pick too!
Well wishes and warm mittens,
* I am an attorney, so it is only fitting that I make sure you know that Shutterfly gave me 50 free cards for hosting this giveaway. I was super pumped because I had already been planning to use them for my holiday cards this year. Now, I only have to pay for 150 cards, instead of 200!
How is that for a disclaimer? No legal-ese here!