Got two good sale/promo emails today and wanted to quickly share.
First up, remember
Fill In The Blankie
?
http://www.fillintheblankie.com
.
Well, they are having a great sale right now - get 40% off blankets and gift certificates. Just use this promo code: BUYNOW and that will also save you 40% off blankets. Use Promo code: LBRDAY and save 40% on gift certificates. I think this sale lasts until tomorrow.
In the FREE department,
Minted is giving away 25 free "mommy" tags
.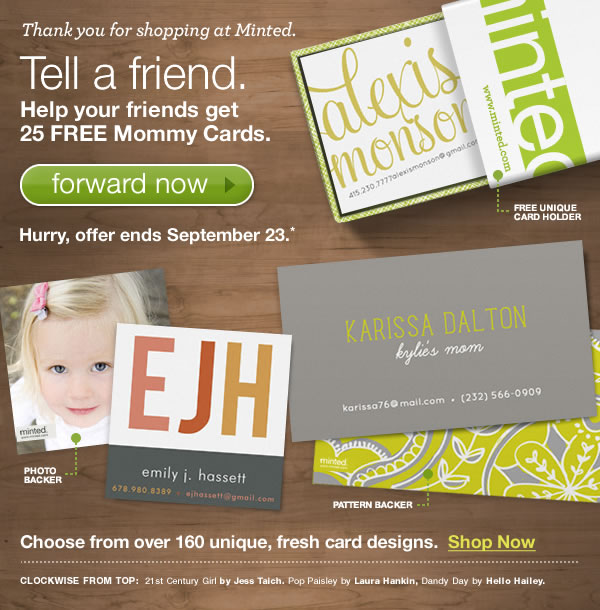 All you have to pay is $7.95 in shipping. Now, mommy tags aren't really my thing.
I work during the day, and have very lawyerly (
yawn
) business cards. BUT, I do love me some personalized gift tags. So, I just modified the tag, and this is my end result:
(the print is small in the photo, but it says my name, and then "a gift for you, with love from the Roberts." The back has a pretty paper design, too. You get the cards free when you agree to let minted.com put their logo in a corner on the back of the card. Since most places do that anyway, even if you are paying full price, so I didn't care.
Anyway, just wanted to pass on those two goodies! Happy Monday!
dollar$ and deal$,
P.S. stay tuned for another AWESOME giveaway!