Thanks to everyone for your input about our Christmas card! I had card # 3 in my Shutterfly cart, and for some reason just could not get the courage to click "confirm." I guess all's well that end's well because this past weekend was Coco's baby dedication at church, and our amazingly talented friend, Jessica Risinger, took portraits of all the new families.

(Check her out at www.JessicaRisingerPhotography.com or
here
on Facebook). Once I saw our photos, I knew I had to incorporate them into our card for 2010.
So, to all our friends (both real life and internet), we wish you a fantastic holiday season and a blessed new year!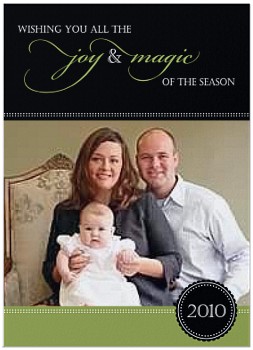 Joy Sage Story Christmas 5x7 folded card

Peace and joy to you and yours,