To think that in about 5.5 months, we will have a new little person in our life! While waiting to find out the gender is killing me (hellooo baby, LOTS of nursery planning to do), I am having fun shopping for things for me (like
this super stylish, yet functional diaper bag
- Mia Bossi bag - $200 from Gap.com)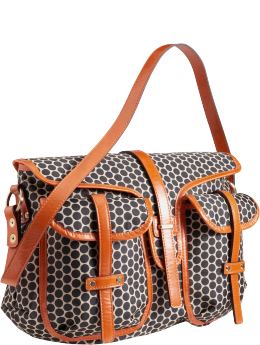 Also, interested in the crib I've been eyeing? Its the
Mercer crib
from, believe it or not, Toys-R-Us. At $399.99 it is a little higher than most, but I love that it is clean, modern, somewhat eco-friendly, and has storage space underneath.
If we have a girl, then I am HIGHLY considering this crib -
DaVinci Jenny Lind 3 in 1
. I love the classic, vintage look, and can just picture this in a room filled with crisp, white, cheery lemon and pungent raspberry colors.
Augh - I am so excited, and nervous, and delighted, and anxious - all at the same time. What a wonderful experience this is and will be!
Feeling very Shopaholic and Baby today,