Okay, so I'm too big right now to be looking at their clothes, thanks to the little alien inside of me, but I was hopeful that Anthropologie had maternity clothes. Nope. Boo.
If I was back at my fighting weight,
this baby
would be my suit for the summer. Va-va-voom!
I also adore this
Bella Hothouse Bedding
. It is WAY too girly for the Knight's taste, but if I ever have to buy new bedding for the guest bedroom, something like this is what I'm after - pretty, bohemian, and cheery.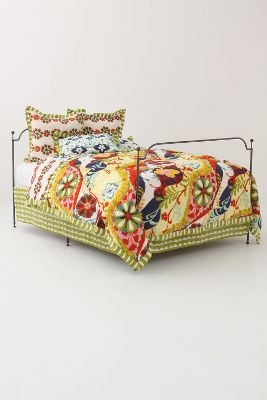 I started to peruse their kids section, in the hopes that maybe something would inspire me (I am having the hardest time deciding on a color/theme for the little one). I didn't see anything that offered true inspiration, but I did find a couple of things that I must have.
T
his sassy frog
is delightful. It's very Betty Rubble meets Kermit's sister. If we have a boy, I just might have to buy this for myself. If we have a girl, then I have the perfect excuse!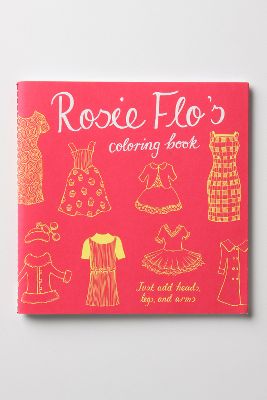 You can't tell from this picture, but according to the description, this book is :
A coloring book with your little fashionista in mind. She'll draw heads, arms and legs around the clothing, and then color the newly created character as stylishly as she pleases.
Yet another item I would certainly snatch up for my own little girlie, as well as my adorable niece!
Frogs and frocks,