Because exams are looming, I am trying to get most of my Christmas stuff done now. So far, I have shopped for about 1/3 of my Christmas list, ordered my Christmas cards, and purchased our plane tickets to go see my mom and dad. That same part of my brain that causes me to maniac-ally scrub the 4 x 3 bathroom tile floor for 2 1/2 hours (just have to get that grime out!) also causes to me to decorate every square inch of our apartment with Christmas spirit. When I am done, it looks like a drunk Santa came over, kicked his boots off, and vomited up the North Pole everywhere.

We live in a 550 sq. ft. apartment and last year? Well, last year we had four trees squooshed in our place. One big tree and then a pink themed mini-tree in our bedroom (to go with our pink and brown motif), a snowman themed mini-tree on one of our end tables in the living room, and a red feathery tree in our bathroom. That's right - when you go to pee, you get a tree.

This year, I hadn't planned on putting up decorations. I don't know if I have the energy or the time to go through all the motions, though. As much as I love Christmas, decorating is so much work. Plus, the majority of my Christmas holidays will be spent in Nashville with the Knight. We won't even be home to enjoy all that time and effort and sparkles. I have been debating this for about a week now, and finally I have made my decision.

Today, I dug through all of our Christmas stuff to find Christmas cards I got last year on clearance. I am a firm believer in getting ready for next year's Christmas after the New Year. Prices are cheap, and when you open up all your storage containers the following year, you discovers little new surprises everywhere!

Things I discovered today that I completely forgot I ever bought (some links have pictures!!):

6 grass green place mats from pier 1.
6 grass green napkins from pier 1.
8 turquoise place mats from Kohls
8 matching turquoise napkins
12 silver beaded napkin rings.
2 packages of cocktail napkins with ornament pictures on them
3 "tribal" looking ornaments (also from pier 1).
1 snowwoman ornament - she is baking! How funny is that?
5 Country Christmas ornaments. I think I bought them for my mom. I'm not really a country Christmas kinda gal, but my mother can do more with a sack of pine cones, burlap, and flannel than you would believe.
3 metal "word" ornaments - they say peace, joy and noel.
1 sterling reindeer ornament
6 berry napkin rings (pottery barn)
A beautiful beaded bronze star tree topper.
Lots of little beaded curly glittery "sprigs" to stick on trees or on packages.
3 packages of gorgeous glittery package tags .
A beaded fruit arrangement thingie that can hang on your door.

You can see everything here. I know - I am a dork, but wine makes me do things. Crazy things.

I also found a Christmas CD from Pier 1 that I have never opened last year. I have a weakness for Christmas CDs. Last year I bought 3 before Christmas, and 1 after. I am always searching for that perfect collection of hip and festive seasonal songs. This one is pretty good. I know that because all afternoon I have listened to it. 4 times. Today. Yes, I recognize that today is November 15, but I've listened to Christmas music earlier in the year than this. If I am in the process of writing Christmas cards and wrapping gifts, it is my right to listen to Christmas music ... no matter what month it is.

A lot of people complain that each year retailers start breaking out the Christmas gear earlier and earlier. I don't really understand what those people are complaining about. I think it is a great thing. I love the colors, sounds, and smells of winter. Of Christmas. Retailers harness that, and pull out all the stops with their advertising and displays. To me, there are few shopping experiences more joyous than visiting the mall in late November/early December and witnessing all the elaborate decorations, freshly put out. It makes me want to throw parties and drink hot chocolate. Snuggle up on the couch and watch White Christmas and It's a Wonderful Life. It gets me thinking about gift-giving earlier and puts me in such a cheery mood. I don't love how overall Christmas is mostly about presents now, but the more time I put into choosing gifts for family and friends, the less stressed and more happy I am about what I'm giving to them.

See how happy Daisy is? It is because I think really hard before I give her presents.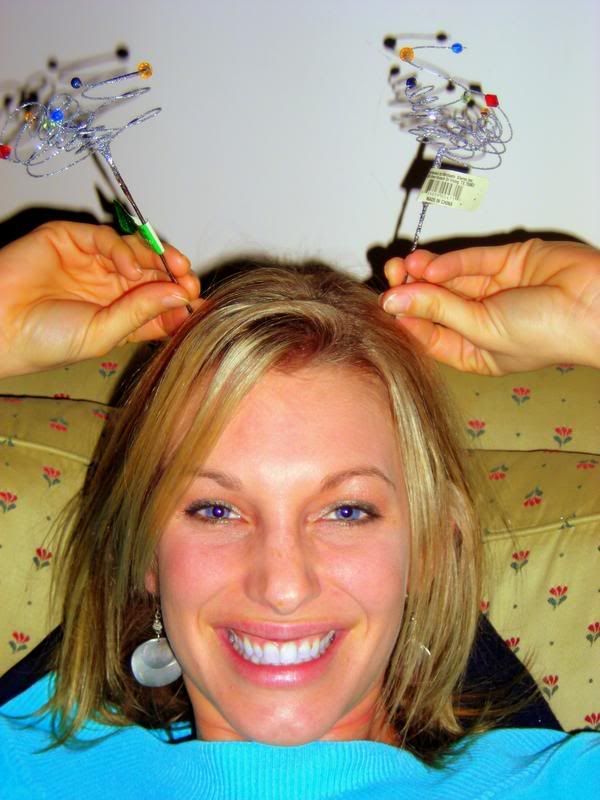 So, I think I have decided what I'm going to do. I'm going to set up my Christmas decorations this weekend. Don't worry - I'll take pictures. I know it's early, but then I will get to enjoy them for at least a month. Also, I can't use "decorating the house for Christmas" as an excuse to procrastinate studying for exams. I am already using that excuse. If you wanna come by and help decorate that would be awesome. Or maybe I'll just have a little get-together and invite everyone over for a Happy Thanks-Mas Party.

See me? This is me hypnotizing you... with my crazy eye tags.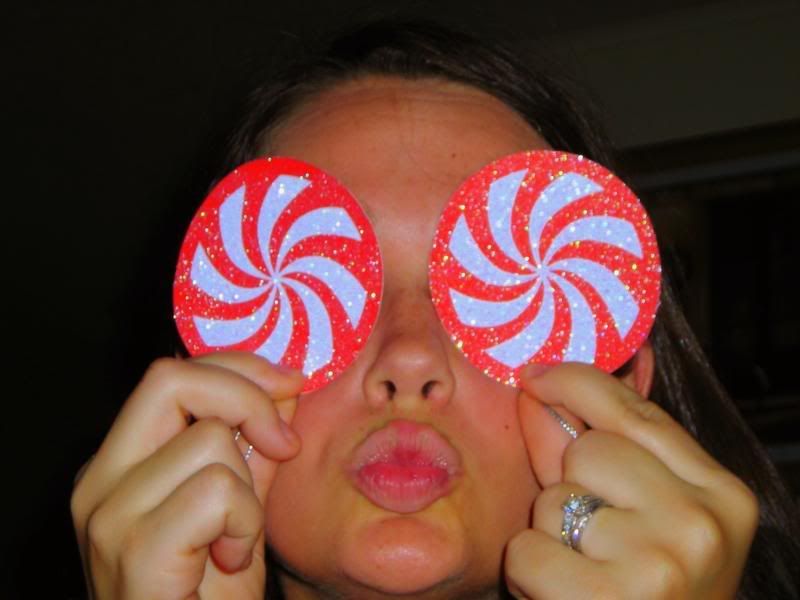 You should come. And if you don't, I'll sic one of my trees on you.